Atlanta United FC: Guzman; Walkes, Larentowicz, Pirez, McCann; Katz, Carmona; Villalba, Gressel (Peterson, min. 87), Asad (Garza, min. 68); Martínez (Jones, min. 82).
Philadelphia Union: Blake; Rosenberry (Gaddis, min. 78), Elliott, Onyewu, Fabinho; Bedoya, Creavalle (Alberg, min. 70), Medujanin; Pontius (Epps, min. 70), Sapong, Picault.
SCORE: 1-0, min. 27, Gressel. 2-0, min. 33, Martínez. 3-0, min. 88, Peterson.
REFEREE: Mark Geiger (USA). Yellow Card: Martínez (min. 67).
Defying all preconceived notions about expansion teams has been Atlanta United FC's story in their inaugral Major League Soccer season. Tonight, with a 3-0 win over the Philadelphia Union, the home side booked their spot in the MLS Playoffs and became the first expansion team to do so since 2009.
Atlanta looked dangerous without key man Almirón
News broke a few days ago that Miguel Almirón was set to miss at least three weeks of the season due to injury. Atlanta proved that they have more than enough firepower to cope without Almirón for a short period especially if they play the way they did tonight.
Head coach Gerardo Martino moved Julian Gressel into the No. 10 slot and brought in Carlos Carmona to balance out his two-man midfield. Both Gressel and Carmona filled out their roles ably and helped their team pick up a fifth home win.
Gressel made his mark in the 27th minute after holding off a defender before firing low into the far corner to give Atlanta the opening goal of the game. It may only have been his fourth goal of the season but Gressel's performance tonight has him at the forefront for the MLS Rookie of the Year award. Josef Martínez then made it two in the 33rd minute, adding another goal to an already prolific campaign. With 14 goals in 17 appearances, Martínez is also making a case to receive MLS honours at the end of the season.
Substitute Jacob Peterson made it three in the 88th minute after a lovely through ball from Héctor Villalba allowed him to find space and round Andre Blake before finishing into the vacated net. Atlanta will be a dark horse in the playoffs and if they manage to get as many home games as possible, odds are they will go deep into the knock-out stages of the MLS.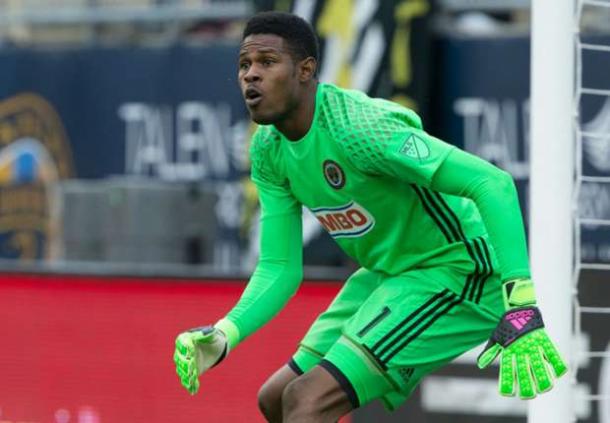 Andre Blake remains the Union's most important player
This could have been a humiliating loss for the Union had it not been for their goalkeeper. Andre Blake made several key stops throughout the game to keep the score at only three goals and, as has been the case throughout the season, been Philadelphia's most consistent player. Blake is a key factor to keeping Jim Curtin's team still within reach of the playoffs but after tonight's result, elimination is much closer. 
Blake started off the game making a huge one-on-one save against Martínez in the seventh minute of the game and then followed that up with another save to keep out Yamil Asad's long range effort. Blake was on hand again in the 21st minute to keep Villalba's rasping effort out of goal and keep the scoreline at 0-0 but you could sense that the longer it went, the higher the likelihood of Atlanta taking the lead. Gressel's goal broke Blake's resistance and it became a matter of keeping the score down more than anything else for the goalkeeper.


This News Credit Goes To >> Source link
Comments
comments