DISAPPOINTING but unsurprising – the 2017 Forbes highest-paid actors list follows suit from its previous editions in highlighting the gender pay gap among Hollywood's male and female stars.
Top of the list for 2017 is Mark Wahlberg, who racked up his $68 million fortune through appearances in Daddy's Home, Transformers and his reality TV show, Wahlbergers. He's followed by Dwane "The Rock" Johnson, last year's highest-paid actor, who pulled in $65 million; while thanks to the eighth instalment of the Fast and Furious franchise, Vin Diesel comes in third place with a fortune of $54.5 million.
Compared to the list of 2017 highest-paid actresses, which was released last week, the financial disparity is clear. The highest-paid actress of the last year was Emma Stone, who made $26 million, followed in second and third place by Jennifer Aniston and Jennifer Lawrence with $25.5 million and $24 million respectively.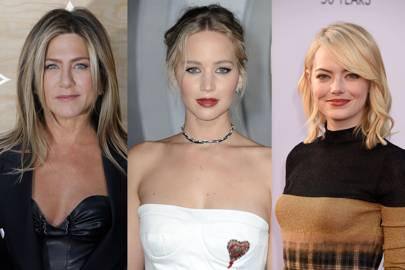 Stone has, in the past, been vocal about the issue, revealing that she asks her male co-stars to do what they feel is "right and fair" and take pay cuts so that their salaries reach parity. "It's not about, 'Women are this and men are that'," she said. "It is, 'We are all the same, we are all equal, we all deserve the same respect and the same rights.'"
But while many male stars are willing, to successfully rid Hollywood of the problem it requires getting to the root, according to Forbes associate editor Natalie Robehmed.
"This pay disparity comes down to roles: in release schedules dominated by superhero movies and brawny blockbusters, there are simply fewer parts for women that pay the sizeable backend profits that result in leading men's large paydays, or the franchise sequels that permit aggressive negotiation for favourable deals," said Robehmed, reports The Telegraph. "According to a 2016 study, women comprise just 28.7% of all speaking roles in movies and only a quarter of roles for characters over the age of 40 – an ageism and lack of opportunity not facing Hollywood's leading men. Until there are an equal number of high-paying roles, there will continue to be an inequality in the paychecks of Tinseltown's very richest."
See the combined list of actresses (italicised) and actors (and the pre-tax amounts, which are based on data from Nielsen, ComScore, Box Office Mojo and IMDB, as well as interviews with industry insiders) below:
1. Mark Wahlberg, $68 million
2. Dwayne "The Rock" Johnson, $65 million
3. Vin Diesel, $54.5 million
4. Adam Sandler, $50.5 million
5. Jackie Chan, $49 million
6. Robert Downey, Jr., $48 million
7. Tom Cruise, $43 million
8. Shah Rukh Khan, $38 million
9. Salman Khan, $37 million
10. Akshay Kumar, $35.5 million
11. Chris Hemsworth, $31.5 million
12. Tom Hanks, $31 million
13. Samuel L. Jackson, $30.5 million
14. Ryan Gosling, $29 million
15. Emma Stone, $26 million
16. Jennifer Aniston, $25.5 million
17. Jennifer Lawrence, $24 million
18. Ryan Reynolds, $21.5 million
19. Matt Damon, $21 million
20. Jeremy Renner, $19 million
21. Chris Evans, $18 million
21. Melissa McCarthy, $18 million
23. Chris Pratt, $17 million
24. Mila Kunis, $15.5 million
25. Emma Watson, $14 million
26. Mark Ruffalo, $13 million
27. Cate Blanchett, $12 million
28. Julia Roberts, $12 million
29. Amy Adams, $11.5 million


This News Credit Goes To >> Source link
Comments
comments