Image Source: / Karwai Tang
Prince Charles and Camilla Parker Bowles's highly publicized, scandal-filled relationship began how most do: at a party. In 1971, Charles and Camilla, then Camilla Shand, were introduced at a mutual friend's event by none other than Charles's college girlfriend, Lucia Santa Cruz. Lucia, the daughter of the former Chilean ambassador to London, was said to have carried on a brief but passionate romance with Charles while he was studying at Cambridge University years earlier and insisted that she had "just the girl" for the prince before hooking him up with Camilla.
While chatting at the party, they soon discovered a shared love of polo and being outdoors, and Camilla reportedly made a joke about her great-grandmother Alice Keppel having had an affair with King Edward VIII, telling Charles, "My great-grandmother was the mistress of your great-great-grandfather. I feel we have something in common." The two began dating almost immediately, meeting at polo matches at Windsor Great Park, where Charles often played — but the two split right before the prince left for the Royal Navy. When he got back eight months later, Camilla was engaged to Army officer Andrew Parker Bowles.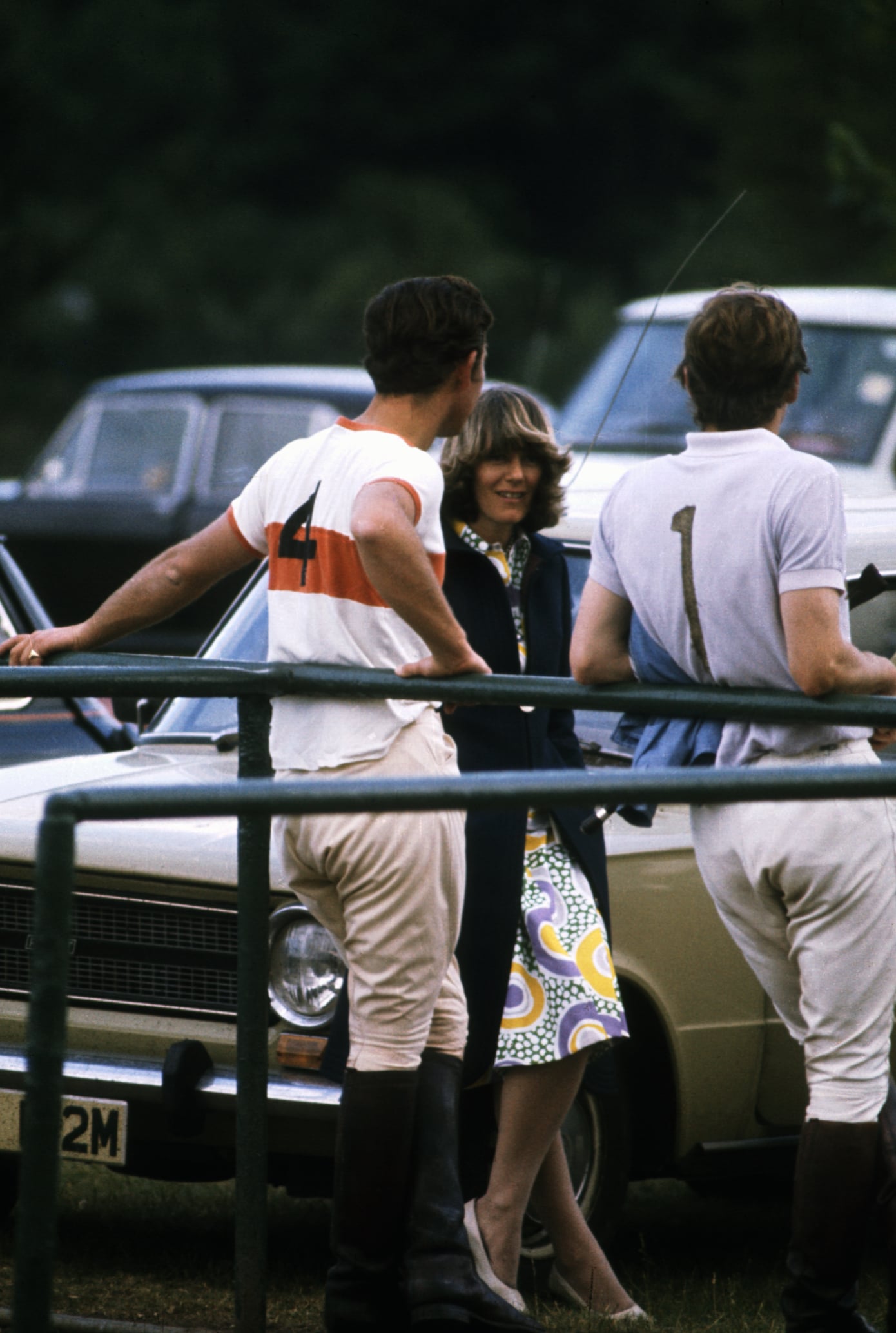 Image Source: / Hulton Deutsch
Camilla and Andrew tied the knot in 1973, and though the two stayed close, Charles began a relationship with 18-year-old Diana Spencer in 1980 (after dating her sister first, of course). He popped the question after only 12 dates, and even though the two were married in 1981, Diana had suspicions that Charles and Camilla had rekindled their romance behind her back — and the fact that Camilla was in attendance at their wedding didn't exactly quell those fears. And to celebrate the nuptials, Charles decided to buy gifts for a dozen of his close friends, including Camilla; he bought her "a gold bracelet personalized with a blue enamel disk engraved with the initials 'GF.' The monogram stood for 'Girl Friday,'" Charles's nickname for her.
By 1986, Charles and Camilla's affair had hit a fever pitch, and in 1989, Diana famously confronted her husband's mistress at a 40th birthday party for Camilla's sister, of all places. Despite her brazen attempts at getting Camilla to back off, Diana and Charles's marriage continued to falter — and by 1992, they had officially separated. In a televised BBC interview three years later Diana made the infamous statement, "There were three of us in this marriage, so it was a bit crowded." Shortly after, Queen Elizabeth II ordered Charles and Diana's divorce, and what was done was done. Diana tragically passed away in August 1997, and Charles and Camilla quietly continued their romance. The queen believed they should go public, so they formalized their relationship by attending Camilla's sister's 50th birthday party together in 1999. Elizabeth gave Charles and Camilla permission to marry in 2005, and during a speech at their wedding reception said, "My son is home and dry with the woman he loves."


This News Credit Goes To >> Source link
Comments
comments